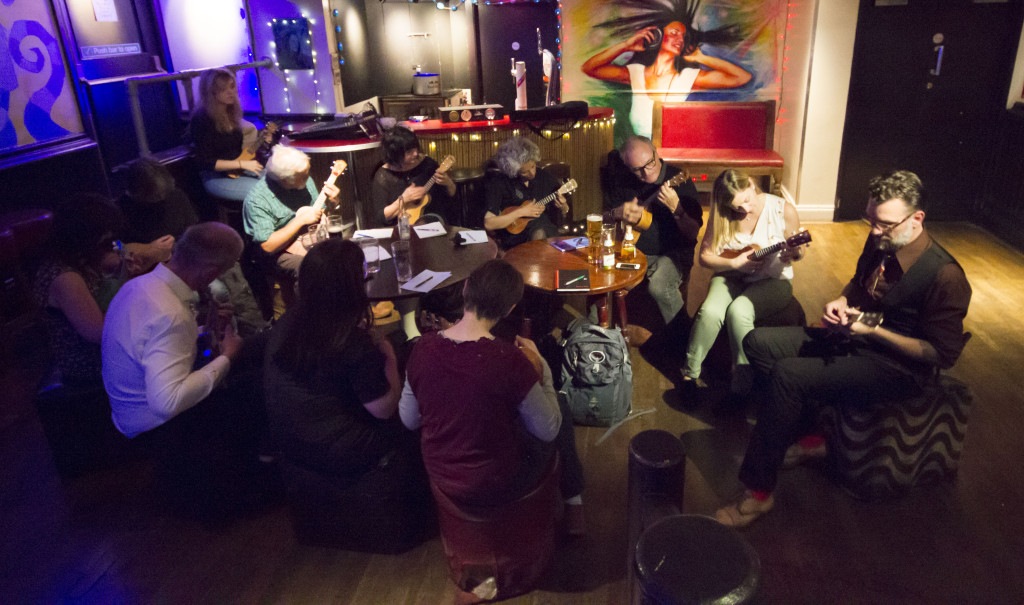 We had the great pleasure of a visit and a strum fun workshop from Ukulelezaza.
If you've not come across Remco Houtman-Janssen before, then you should have! He's a world class player, who's played in many Hawaiian bands, and regularly plays live at global ukulele festivals.  He paid us a visit from Belgium last Thursday, and ran a workshop at the Royal George.
Here are are the details of the strum fun workshop that he ran:
As a master of the right hand and a well experienced teacher, Zaza's workshop on strumming techniques is a must-attend for anyone interested in traditional syncopated rhythm techniques, like the triplet, split stroke and swing jazz. One finger, two fingers, three fingers… You will leave this workshop with a few quintessential ukulele strums up your sleeve. Duration 75 minutes.
Some of the students said:
'Remco is a great teacher and player. I leant a lot from this workshop and really enjoyed his concert that followed after the workshop. He has a wonderful collection of very old (and battered) uke's of all shapes and sizes that he uses in his act. If you enjoy playing 'jazz style' numbers I can heartily recommend his book and DVD 'happy days are here again' which you can get from his website: www.jumpingfleamarket.nl. These alumni workshops are a great idea and I am really looking forward to the new ones.'
– Nigel Karney
'Absolutely brilliant workshop, one you need to make sure is in your Diary. Zaza has a unique was of teaching which can make any Ukulele at any level sound beautiful. He has so much experience to offer, and if you are lucky he will show you what he can do with a wide range of his own Ukulele's.'
– Maria Cox