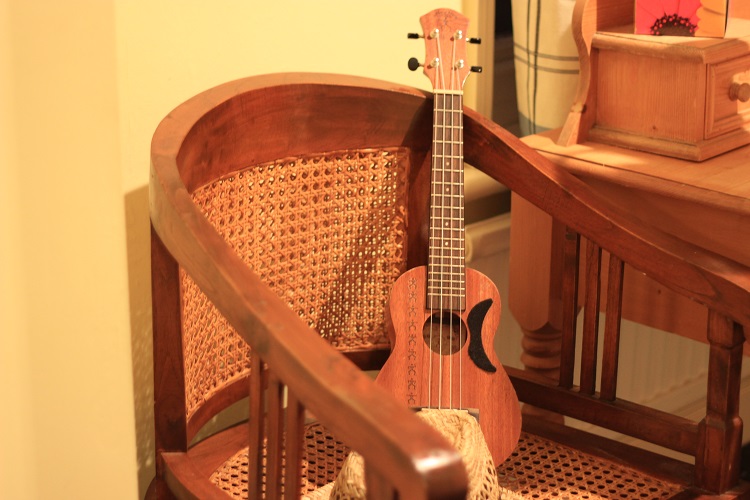 So… you're thinking about buying a ukulele?  We say that you should just DO IT!  You won't look back, as it's a fun, sociable and portable instrument. In the first instance, we don't recommend spending lots of money, however, do avoid really cheap ukuleles. They won't hold their tune, so you'll be annoyed as you'll essentially have an unplayable instrument. Ashton's, Spongebob's, Makala basics, and those awful ones they sell at Argos are ones I'd generally avoid. Makala, Stagg, Lanakai are decent starter ukes. They come with good quality strings (more on this later) and they'll hold their tune when you've bedded them in (tuned them consistently each day for a week).
How much should I spend?

On your first ukulele, I don't recommend spending a lot of money.  A little bit like a car, when you're learning you might have a few bumps. Also, until you know for sure that you love it, you don't want to spend a fortune.  You can buy a cheap ukulele for about £30.  You can definitely spend more, and, if you have musical experience and know you'll stick with it, then do that, but if you have no musical experience and you don't know if you'll play for a few years, then just get a basic ukulele that sounds good.
Here are a couple of brands that we recommend.
Makala are inexpensive, and sound good.  Here are a few links to find some Makala ukuleles:
Stagg are also inexpensive, and sound good.  Here are a few links to find some Stagg ukuleles:
Before you know it, you'll have Ukulele Acquisition Syndrome (UAS) and end up with a bunch of other (possibly more expensive) ukes, but for now start small until you know you'll stick with it, and do stick with it!

Try to resist buying lots of brothers and sisters for the new addition to your family, though.  Ukuleles are very addictive. There's a 'thing' Ukulele Acquisition Syndrome. (UAS).  You have been warned!
https://www.learntouke.co.uk/wp-content/uploads/2015/10/email-uke-logo1-300x180.jpg
0
0
Lorraine Bow
https://www.learntouke.co.uk/wp-content/uploads/2015/10/email-uke-logo1-300x180.jpg
Lorraine Bow
2013-03-24 09:38:50
2014-11-03 12:54:32
Buying your first ukulele