You should TOTALLY take the ukulele seriously. I'm just about to have a mini rant, so please forgive the unusual tone which strays from the usual feel of this site.
Having seen the details of this talk, I immediately want to attend. Slight problem is, the talk is held in Los Angeles rather than London. So, I've contacted the speaker, Jim Tranquada, to ask if he'll feature on an interview blog. I'd imagine everyone will be interested in what he has to say, so I'll share it as soon as it's up.
Why is this topic such a hot one for me? Having been endlessly teased and had needless George Formby chats with random people who know absolutely nothing about the ukulele, I've been on a side campaign to try to make people to see it as a serious instrument, rather than a 'toy guitar' or a 'mini guitar' or 'cute little thing' or whatever. It was the reason I got into playing music, along with hundreds of others I know. Whilst many choose to use it in their comedy routines, I try to give it the respect it deserves as an instrument. I hope that you do, too.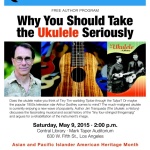 Since we're not based in LA, Jim very kindly agreed to give us more information from his talk. You can read it here.
https://www.learntouke.co.uk/wp-content/uploads/2015/05/ukulelecoloursheader.jpg
360
1030
Lorraine Bow
https://www.learntouke.co.uk/wp-content/uploads/2015/10/email-uke-logo1-300x180.jpg
Lorraine Bow
2015-05-08 15:10:37
2015-10-29 12:28:06
Why You Should Take the Ukulele Seriously