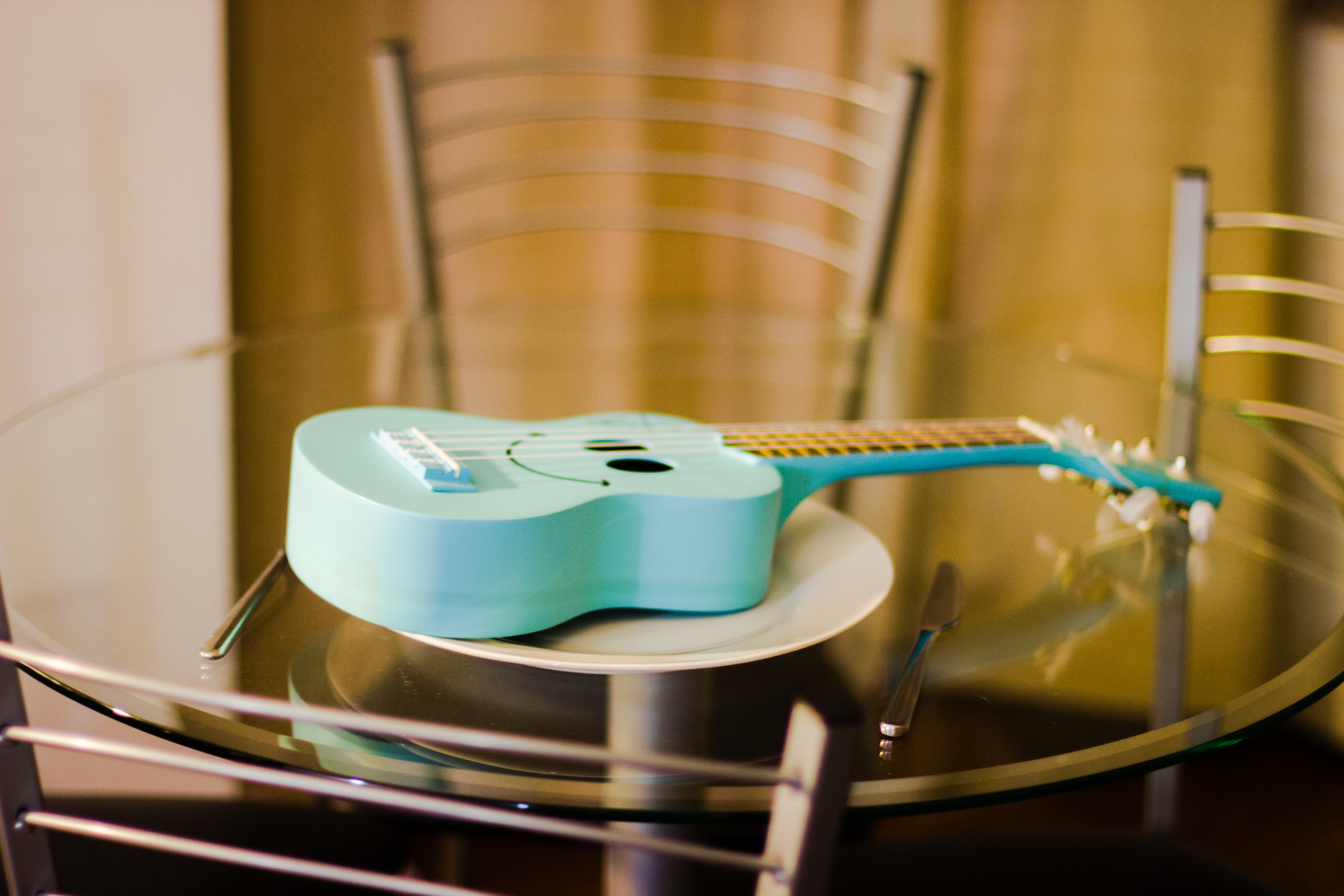 Take that headline with a massive dollop of salt! The lady featured in this report undertook a Slimming World diet and decided on the ukulele as a side hobby, learning a total of 1 song. We fully support the ukulele playing, but we'd add syllabus with a LOT more than just one song, and perhaps not use the instrument as a meal replacement programme! We are not qualified in that area, so always consult a qualified nutritionist before undertaking any kind of diet.
Anyway, let's get on with it… This is how it was reported:
Dorothy Rogan lost 4st by playing on her ukulele every time she feels hungry… but her one song portfolio is driving her husband mad!
* She took up the ukulele when she realised she ate when she was bored
* Using the Slimming World diet, and replacing supper with songs she lost 4st – 3 dress sizes
* She only knows one song – 'Oh My Darling Clementine'
* Driving her husband mad, must have played it 'a million times'
* Now attempting to learn two new songs to alleviate his despair 
A pensioner has been quite literally strumming the pounds away thanks to her unique method of dieting. Dorothy Rogan, from Darlington, has helped herself lose 4st by picking up her ukulele to stave off temptation by playing 'Oh My Darling Clementine'. The 64-year-old plays the American folk classic, which is associated with the cartoon character Huckleberry Hound, on repeat to avoid boredom and turning to snacks. 'I must have played that song over a million times,' said Mrs Rogan. 'It is the only one I know and I just play it over and over again when I am bored. I don't ever crave food but when I am bored, I just seemed to eat. Playing the ukulele has really defeated the boredom but it has driven my husband to despair.
'I even continue playing it when it out of tune and it sounds absolutely dreadful. John will just come in and look at me and shake his head. We all call him 'Poor John' now'. Mrs Rogan, who decided to lose weight after undergoing a quadruple heart bypass last year, has managed to drop from 18st 7lb to under 14st and intends to keep losing the pounds. In an effort to relieve her husband's suffering she is now practising 'He's Got the Whole World in his Hands' and a festive favourite for the Christmas period in 'Jingle Bells'.
Dorothy combined her ukulele playing with going to Slimming World in order to lose the pounds. Mrs Rogan said: 'I went to Slimming World and it's been excellent for me. It showed me how to eat properly and showed me an easy way to live my life. Mrs Rogan's is now enjoying the benefits of a healthy lifestyle, having dropped three dress sizes. She credits her ukulele playing with her weight loss sucess, as well as making small changes such as swapping double cream for natural yoghurt and using spray-oil instead of olive oil. 'I used to use lots of oil and cream and butter in my cooking, now I've changed how I cook totally. I don't add any sugar to anything either. It's basically a low fat, healthy diet. 'As well as losing weight, I have dropped three dress sizes and have a lot more energy these days. I even make my meals from scratch, even the sauces and they are all even tastier than before.' Mrs Rogan learned the ukulele at classes run by Age UK Darlington, who she also volunteers for. She added: 'Age UK is a fantastic organisation who do great work with older people. You have never seen so many 80 to 90-year-old's using computers, on the internet and even playing the ukulele like me. 'Life does not stop in your 50s and 60s. That is why it is great to have such activities put on for people to learn.
'I was never musical and could never imagined playing an instrument, especially at the age of 64. I am really glad that I did.'
This article could only have been written for Mailonline. By Katy Winter.
The reality is, this lady completed a diet, lost weight and learnt a song on the ukulele. We support the ukulele playing, and especially so for people who have never learned to play anything in their lives before. It's a blast. "Music self-made, is happiness self-played". We'd love to help her learn more songs. As she's not in London, maybe she could check out our YouTube channel could or, come down and join us at a course.
https://www.learntouke.co.uk/wp-content/uploads/2014/11/Ukulele-Food.jpg
2048
3072
Lorraine Bow
https://www.learntouke.co.uk/wp-content/uploads/2015/10/email-uke-logo1-300x180.jpg
Lorraine Bow
2014-11-11 17:00:09
2014-11-12 17:01:44
Lose 4st on The Ukulele Diet!