Ukulele Workshop with Ukulele Virtuoso, James Hill. 11 March.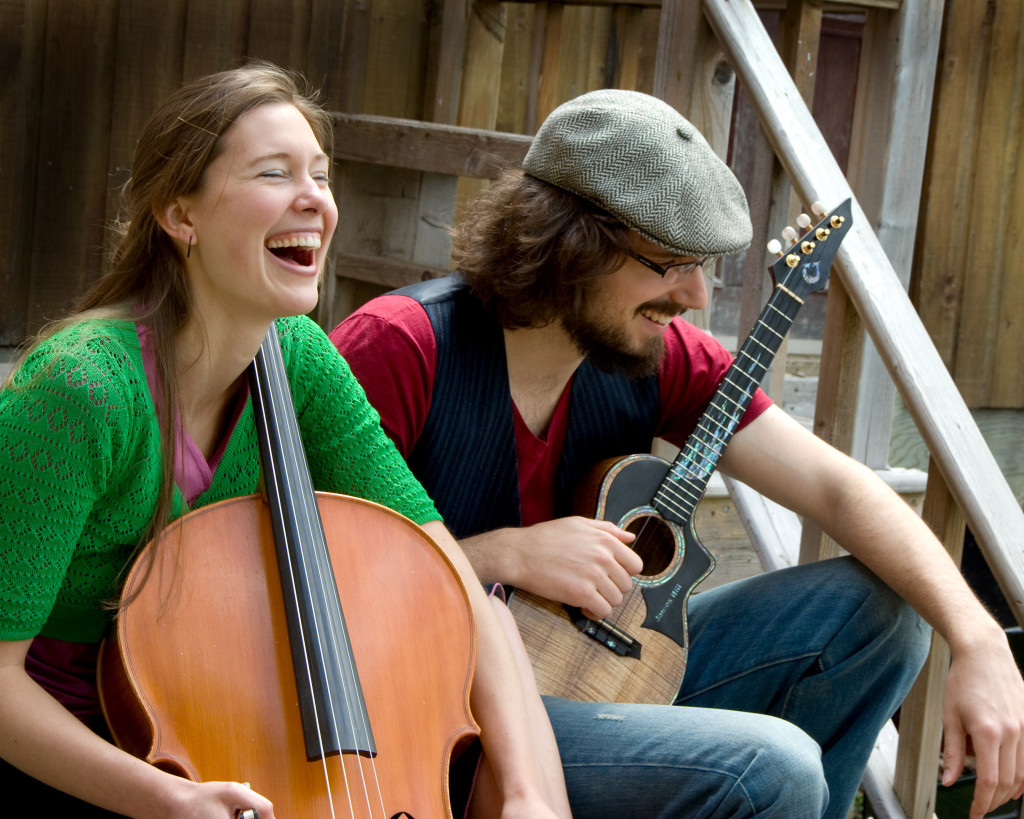 It is with the greatest pleasure that I announce a workshop with James Hill and Anne Janelle for our alumni students. As most of you will know, James is one of three true ukulele virtuosos that I am aware of in the world. The words 'ukulele virtuoso' are used liberally by some to describe guitarists who are able to hack and play lead lines on a ukulele, but I know of only three actual ukulele virtuosos. In March 2014, you'll get to have a workshop with one of them. Very exciting!
Even better than that, you'll get double the fun. The amazing Anne Janelle (James's wife, and incredibly talented partner in crime – she's a phenomenal cellist, performer and recording artist.) will be with him. The reason he's in town is because of Anne's tour. He'll accompany her on stage at the Green Note in Camden, with the beautiful folk group Troubadour Rose on March 23. If you want to go and see the (highly recommended) show, then you can grab yourself a ticket here.
Here's James's actual biography: Since the release of his first solo ukulele album in 2002, James has become recognized as "one of the world's top composers for the ukulele" (Rafe Mair, 600AM Vancouver), renowned for his "world-class command of the instrument" (John Berger, Honolulu Star-Bulletin).
James, who holds a Bachelor of Music degree from the University of British Columbia, is also a distinguished teacher. He has presented ukulele workshops throughout Canada and the United States, as well as in Japan, Germany, Italy, Sweden and New Zealand. He has twice been invited to teach and perform at the renowned `Ukulele and Slack Key Guitar Institute in Waimea, HI, and has lectured at Queen's University in Kingston, ON, and at the University of Oregon. James is co-author of the acclaimed Ukulele in the Classroom method book series.
"Possibly the best ukulele player in the world… Hill wowed and charmed the audience." – Waikato Times Testimonials
Wow! James Hill brings the uke to life. It is one thing to be so amazing on the ukulele… but to also connect and bring the magic to the hearts of his students, that's wonderful. – Chris, Music Teacher
James' lessons are delivered so clearly, amusingly and thoughtfully. – Faith, Adult Learner
I'm super-impressed by James' teaching, organization and caring. As an ex-public school music teacher I realize how much he has invested in developing his teaching skills. – Ellie, Retired Music Teacher
So. If all this excites  you, then you can
Book a ticket to James's workshop here. [this event was in the past]
https://www.learntouke.co.uk/wp-content/uploads/2015/10/email-uke-logo1-300x180.jpg
0
0
Lorraine Bow
https://www.learntouke.co.uk/wp-content/uploads/2015/10/email-uke-logo1-300x180.jpg
Lorraine Bow
2014-02-20 16:06:03
2015-11-21 18:25:58
Ukulele Workshop in London, UK with James Hill