Canadian Ukulele Blues Star Manitoba Hal joins us for a Ukulele Workshop
I am really chuffed to announce a workshop with the inimitable Canadian blues ukulele player, Manitoba Hal, primarily for our alumni students, but, since Hal only has 1 London workshop date, we're happy to share him! Places are very limited, so book here if you want to join the fun.
As most of you will know, Hal is a tour de force. He banishes plinky plonky hula ukey in favour of accomplished blues riffs. The video below was Ukulele Hunt's video of the year 2010.  It really is something to see and hear. Hell, don't take my word for it. Listen to it for yourself:
Here's his official blurb:
ABOUT HAL –
Manitoba Hal is one of Canada's most well known ukulele players. He is also an accomplished guitarist and songwriter. Hal proves that the uke can be small but mighty as he pulls out powerful blues riffs and melodies.
Hal uses a looping technology to produce a one-man-band experience, adding subtle but important background beats to his extraordinary ukulele strumming and riffing. Many wouldn't associate the ukulele as a blues instrument, but Hal takes out all the hula, leaving only room for deep blues to prevail. After his grandfather gave him a uke in '95, Hal found that it transferred easily from his blues guitar style, complimenting his combination of finger picking and strumming, and gospel vocal style.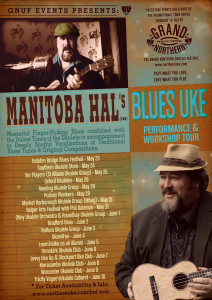 Hal will be performing for workshop attendees after the workshop, so come down and share a burger with us beforehand and stick around afterwards. You won't regret it!
Hal's UK tour is being organised by the lovely people behind the Grand Northern Ukulele Festival. You can see more information here. (Thank you also for the tour poster, designed by Shelley Rickey
Want to come along? Grab your ticket here, whilst stocks last! [this event was in the past]
https://www.learntouke.co.uk/wp-content/uploads/2014/05/ManitobaHalUKtour.jpg
310
960
Lorraine Bow
https://www.learntouke.co.uk/wp-content/uploads/2015/10/email-uke-logo1-300x180.jpg
Lorraine Bow
2014-05-09 17:50:15
2016-02-27 09:22:34
Ukulele Workshop in London with Manitoba Hal